I have a small patio in my backyard that I like to fill with container plants to enjoy from spring into the fall. Containers are a great way to add some additional plants to your outside space without having the expense or work of more extensive flower beds. There are so many great options to make your patio space come to life during this time of year.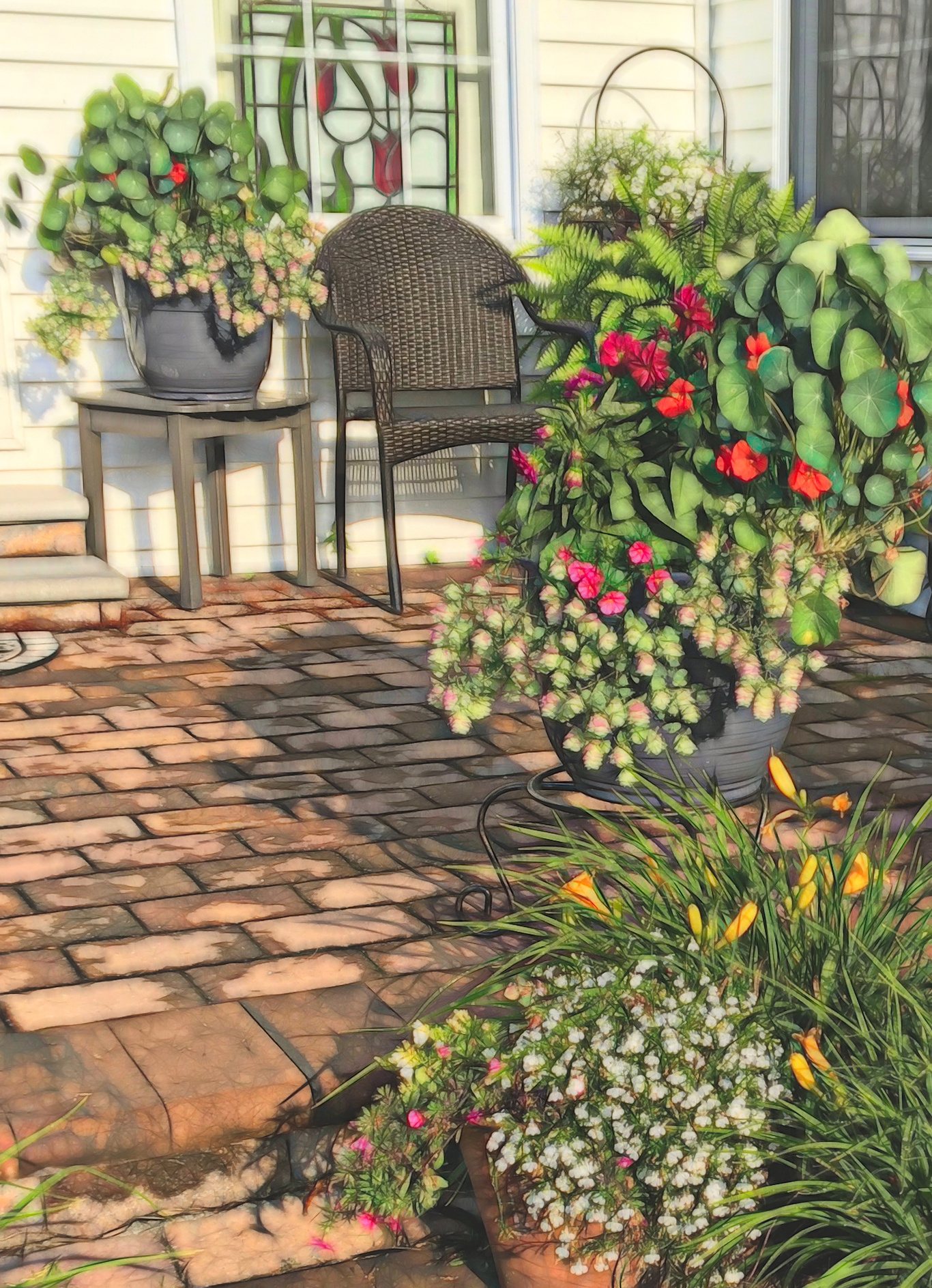 Choosing a container is the first step. Think about your space and what type of container will work best. Something round, square, or long. Do you want the container to be on a stand or fill the patio ground? Start by looking around your house, garage or storage shed. You may find containers that will work great. I have used galvanized tubs, vintage storage tins, stoneware, or large bowls. Get creative when thinking about your containers. You can also dust off old pots, re-paint a new color if needed. I like to place my empty containers on the patio to ensure everything will fit in the space before purchasing plants. Take a photo of the empty containers, so you have them when you visit the garden center.
Next is a visit to the garden center. When purchasing your container plants, try a mix of annuals, perennials, grasses, or even succulents. Filling the container with one type of plant can be very dramatic, or use various plants to resemble a flower bed. Check the plant labels for the required sunlight and the plant height. A mix of low-growing plants and taller will add depth and interest to your container.
Colors are a fun way to really customize your garden. This year I decided to go with a color theme. I was drawn to plants in the yellow, orange, coral family. I added in some feather grasses for height and texture. Depending on where you live, a container full of succulents can also add to your landscape. This year I filled a large stone container with a mix of bronze-colored and blue-green succulents. I am excited to see how they blend as they grow.
Keep your plants indoors overnight for a few weeks until the fear of frost has gone, then you can begin to plant. Be sure you have a good soil mix. I use moisture-rich soil that helps to retain water for the containers. Before planting, I place my plants in the container to be sure they will fit and mix up the colors and plant heights. As you plant, be sure to save your plant tags. I place them in plastic bags and label them so that I can reference them later if needed. Some plants will really thrive in your garden, and then you can remember to add those to your containers in the next year.
Take time to read the plant labels, so you know a little more about the plants and how much water they need or fertilizer. I don't add fertilizer when first planting. I usually give the plants a good month to settle in. Then I will do a monthly fertilizer if needed.
I am excited to see how my sunrise and sunset containers take off this spring. I will post the containers in a month to show how they are progressing.
Lori