I recently read an interesting article from Amateur Photographer Magazine about taking one floral bouquet and capturing 30 different images in 24 hours. The photos were very creative and fun to view. I decided to take on this challenge. I purchased a bouquet of Lisianthus flowers at Trader Joe's and started shooting. I was surprised that I found this activity more challenging than I expected, but it was a lot of fun. I took the author's advice and pulled out all kinds of materials around the house, including my light pad and flash. I pulled out various containers, vases, and backdrops to shoot these flowers. I also had my tripod ready to go and a variety of lenses. I knew I would want to capture the flowers close up and maybe further away depending on the scene. I was all prepped, so let's see how my challenge turned out.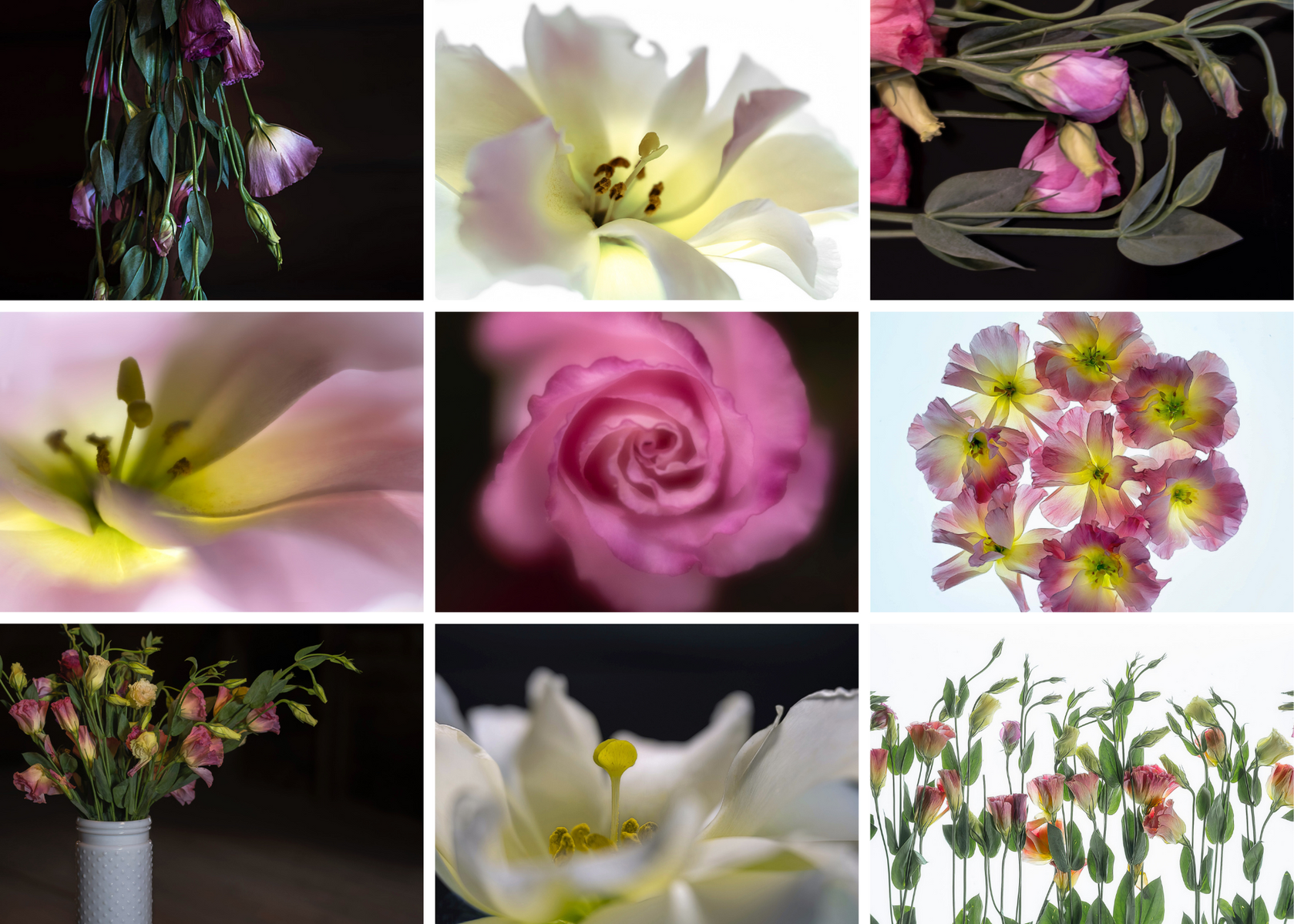 I started my 24-hour challenge with traditional shots of the flowers in a vase, close-up images, and then blooms on a light pad. I enjoyed capturing the pictures in my standard, go-to styles. Of course, those were easy; I knew what lens to use, what light, etc…

I was having lots of fun, and thought, I am doing great! But, I then realized the time had flown by, and I had gotten stuck working on the close-up images. I noticed that if I opened up the flowers a little, the insides were stunning. I wanted to capture that part of the flowers. I got so busy capturing those macro details that I lost a lot of time with this activity. Lesson learned to take maybe only a few images of each type of photo set up. The idea of this challenge was to capture a lot of compositions, but I couldn't resist all the macro fun I was having.
From the macro shoot, I moved on to the more creative images. I used my light pad first, making a variety of arrangements. Then I tried a flat lay image of a deconstructed flower. I love seeing those on Instagram, but I wouldn't say I liked how my pictures turned out.

I tried a variety of still life images, even one hanging the flowers upside down. I tried images on books, in various vases, with props like garden tools, teapots, etc…

If I do this type of exercise again, maybe on a cold winter day, I will change a few things. I would give myself more time, maybe two days, to work with the flowers. I would probably take day one to explore the flowers in vases and close up with my macro lens. Then on the second day, I would deconstruct some of the flowers and do some creative images with the flowers. My second tip I would get a whole bouquet of different flowers to work with vs. just one type of flower. This would give you more creativity. Below are some images that just did not work for me.
Lastly, I would pull some items together from around the house and set up small scenes ready to add flowers and shoot. I spent way too much time trying to put together quickly flay lay or still-life scenes. I would research creative, fresh ideas on Pinterest or Instagram and have some things planned out a day ahead. There is no harm in replicating another photographer - your images will be different. It is an excellent place to start if you struggle with out-of-the-box creative ideas.

Overall I enjoyed this exercise and will try it again. Maybe this summer with flowers from my garden.